CGM webCODER
CGM webCODER is the powerful CGM webTOOL for CGM webPRACTICE that provides medical office personnel and billing professionals with the most accurate and current coding and compliance information available. You will save valuable time and resources, reduce claim denials, avoid unnecessary rebilling costs and assure appropriate reimbursement.
Because CGM webCODER works seamlessly within CGM webPRACTICE, it replaces the time consuming and costly process of manually searching through outdated books and CDs for coding and compliance information. CGM webCODER delivers National Correct Coding edits for bundling and unbundling issues and appropriate use of modifiers in real-time. It also provides up-to-date CMS program memos and other government communications, ICD, CPT and HCPCS information, ICD-CPT linking and RVU sequencing. With rapidly changing rules, regulations, and governmental mandates, CGM webCODER ensures that your billing conforms to best practices and procedures for maximum reimbursement. CGM webCODER will immediately save you valuable time and money.
Features
Automatic checking of claims at charge entry no need to go to another site and enter redundant data

Keyword, code or indexed searches of CPT, ICD, HCPCS, ASC and modifiers

Continuously updated with current CMS rules and guidelines

CPT to ICD Linkage and Crosswalk Libraries for procedures and lab codes based on Local Medical Review Policy (LMRP)

Accurately analyzes RVU sequences for maximum reimbursement

Complete data set including RVUs, allowed amounts, global days, indicators for additional digits/modifiers

Checks for bundling/unbundling of CPT procedures to identify comprehensive, component, and mutually exclusive procedures

Determines allowed amount by payer contract using contracted RVU data

RVU Breakdown, Surgery Assist, Co-Surgery and Team indicators help maximize billing fees
Benefits
Decreases coding-related claim rejections

Increases reimbursements

Eliminates need for costly and bulky code reference books

Enables claims to be filed more quickly

Saves billing department time and labor

You can quickly access CGM webCODER within Procedure Entry by clicking Check Codes in the Action Column.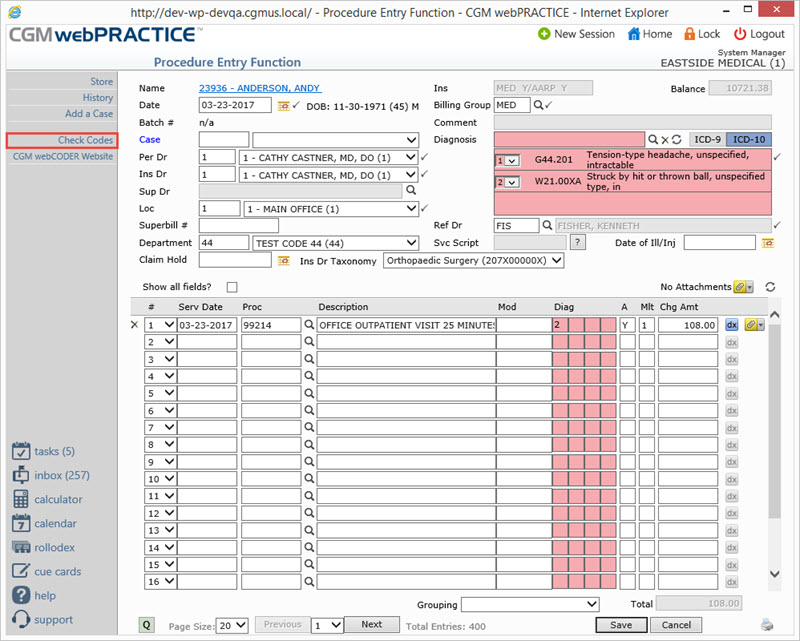 CGM webCODER processes the data you entered in Procedure Entry and displays detailed CGM webCODER Results.