Maintain Labels
By using DMS Labels, you can create standard labels for the various types of labels printed in your practice. You can create one-up, two-up, three-up, or basically any type of laser or dot-matrix label. These labels can be used for any label printing function based on a DMS user defined list.

When you first access this function, the DMS Label Summary Screen will display every label that has been previously created.


You can edit a label by clicking anywhere in the row containing the label information to select it. To create a new label, click New Label in the Action Column.

After you click New Label in the Action Column, the DMS Label Password screen will immediately display containing blank data fields for entering a password for the new label.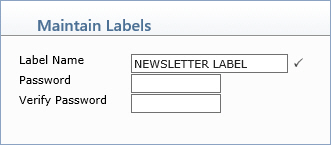 Next, the DMS Label Description screen will display containing blank data fields for the new label.


When the DMS Label Content screen displays, you will need to insert the DMS data-fill fields you want to print on the label. For detailed instructions on working with DMS documents, see Add or Change a Letter.

Label text can be converted into barcodes if a tilde character ~ is placed on either side of the text (Ex: ~12345~)


Note: If you print labels to DOT Matrix printers and/or use Zebra label printers, these printers will not support Rich Text Editor (RTE) documents. If you have changed the DMS Integration from Plain Text to Rich Text, you should name your labels as 'Lnnnn' (the letter 'L' followed by four numbers, such as L0708). This will prevent you from being able to select them for editing and inadvertantly converting them to Rich Text documents. If you want to edit one of these labels, you must go to the DMS Integration and select the Plain Text option before editing. Make sure you set the integration back to Rich Text when the editing is complete.